Game Downloads
You're located in category:
Choy Lee Fut Kung Fu Warrior
Average kung fu fighting game that pales beside the likes of Bushido and Epyx's classic World Karate Championship due mostly to awkward controls. Choy Lee Fut does have many high points that are worth mentioning, including detailed graphics (given the limitations of CGA palette) and some innovative features. The most interesting feature is the "Chi" meter, which constantly goes down and must be replenished as you defeat enemies. You can collect and use a few types of weapons, although the game's emphasis is on hand-to-hand combat. Although it starts out quite slowly (i.e. the first stage have you practice various moves to your heart's content), the game becomes difficult quite fast, and soon you will find yourself facing overwhelming odds. Awkward and somewhat irresponsive joystick controls add to the frustration, making the game more work than fun. As we say today, it's close, but no cigar.
Download full game now: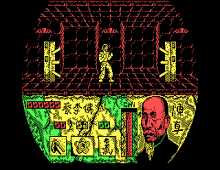 Choy Lee Fut Kung Fu Warrior screenshot
People who downloaded this game have also downloaded:
Best of the Best (a.k.a. Kick Boxer 2), California Games, California Games 2, 4D Sports Tennis, World Karate Championship