Game Downloads
You're located in category:
Championship Wave Racer
Championship Wave Racer is a fun boat racing game that is strongly reminiscent of classic Super Sprint and Micro Machines games. Despite taking place on water, the game looks so similar to Codemasters' classics that it might as well be titled "Micro Machines at sea": the tiny cars are now tiny boats, and you still view the action from a bird's eye view of the track. But thankfully it is more than a cosmetic update: CWR is also a lot of fun to play. Although the levels are no match to the wacky designs of Micro Machines, it more than makes up for it in other ways: there is a neat "instant replay" feature, support for 4-player hotseat multiplayer, and some pleasant surprises along the way. The game is easy to learn, and has reasonable realism level despite the arcade slant - you cannot make sharp turns at very high speeds, for example, and you will have to watch out for currents and obstacles on the water.

If you like Micro Machines, you will probably also enjoy this freeware game from a small UK-based developer. My only gripe is that the tracks look too similar to each other; a level editor would have been a nice addition. Highly recommended!
Download full game now: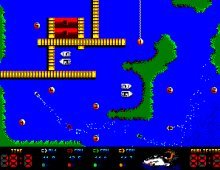 Championship Wave Racer screenshot
People who downloaded this game have also downloaded:
Civil War Generals 2, Monstania, Road Hog!, PT-109, Semper Fi