Game Downloads
You're located in category:
PT-109
PT-109 is a revolutionary naval sim for its time that went by largely unnoticed, although it attracted a minor following on the Macintosh, the game's original release format. The game lets you take the helm of one of the most daring vessels of the World War II era: the highly maneuverable PT-109. Originally designed to be an effective means of protecting shorelines from enemy assault, PT-109 is a versatile fighting machine that can range over large areas if necessary.

As skipper of PT-109, you will embark on dangerous missions in the Pacific Ocean and Mediterranean Sea. And the enemy is not confined to the sea; it will require skillful strategy and optimum usage of your full arsenal of weapons to successfully complete a patrol or a full campaign. Engage in action in the Solomon Islands during the period that the actual PT-109 skippered by then Lieutenant (jg) John F. Kennedy was active and lost. Since the enemy consists of 12 different kinds of ships plus airplanes, if the action gets to be more than you can handle alone, radio for assistance from friendly PT boats or planes. The game's revolutionary graphics is top-notch, but unfortunately the major problem is that, as in the actual war, the PT boats never were really a decisive factor-- and it shows in the game here. You will feel that many times the battle's outcomes are rarely affected by your performance, but more so by the performance of computer-controlled allied fleets.

Despite this quirk, however, PT-109 is an excellent, highly playable submarine simulation of a rarely-covered subject in naval simulations. It may not be as action-packed or intuitive as the venerable 688 Attack Sub, but PT-109 has its unique appeal and gameplay. Highly recommended for experienced skippers and armchair naval commanders.
Download full game now: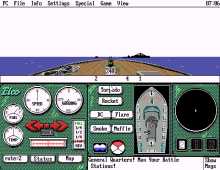 PT-109 screenshot
People who downloaded this game have also downloaded:
PT Boat Simulator, Aces of The Pacific, Command Aces of The Deep, Destroyer