Game Downloads
You're located in category:
Destroyer
One of the earliest naval simulations ever made, Epyx' Destroyer is a graphically-intense portrayal of World War II destroyer operations. Judging that Epyx is best known for many addictive sports and action games, it shouldn't surprise anyone that Destroyer is heavily arcade flavored-- so much so that fans of realistic sims will be very disappointed at the many unrealistic factors and historical inaccuracies in the game.

What the game lacks in accuracy, though, it makes up for by sheer playability and great portrayal of battle action. There are 10 stations you can switch to, each with authentic-looking array of instruments. The missions (seven in all) are nicely designed in a sense that you'll need to learn only a few stations at a time. The first few missions require only 3-4 stations, while the very last (and toughest) requires proficiency with all the stations and the ability to quickly switch between them. You will need to use the sonar to seek enemy submarines, man the anti-aircraft guns to shoot down attacking fighters, and prioritize repairs on the damage control screen. The blend of quick reflexes and quick decision-making is very good, as well as graphics (for its time). Destroyer is definitely a game where arcade emphasis won out over history and tactical operations, but it's great fun while it lasts. Highly recommended for action gamers looking for a bit more realism in their sims, and sim fans looking for a lighter fare than, say, Harpoon.
Download full game now: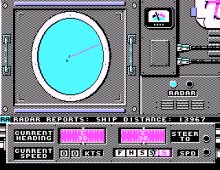 Destroyer screenshot
People who downloaded this game have also downloaded:
Advanced Destroyer Simulator (a.k.a. B.S.S. Jane Seymour), Dreadnoughts, Carrier Command, Aces of The Deep