Game Downloads
You're located in category:
Advanced Destroyer Simulator (a.k.a. B.S.S. Jane Seymour)
Naval warfare simulator set in World War II, in which you control a British destroyer covering missions in The Mediterranean, The English Channel and The North Sea. Advanced Destroyer Simulator has an easy interface and nice graphics with solid-filled 3D objects and overall good presentation. It's not very complex, no in-depth sim and plays a bit like Silent Service II on ships. Nice for beginners in the genre. Works perfectly on my old IBM PS/2, but I didn't get it to run on my PII/450. So good luck in getting it to run. ;) Also try Sherman M4, a tank sim from the same designer which was released a year earlier by Loriciel.
Download full game now: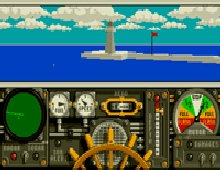 Advanced Destroyer Simulator (a.k.a. B.S.S. Jane Seymour) screenshot
People who downloaded this game have also downloaded:
688 Attack Sub, Action in The North Atlantic, Aces of The Pacific