Game Downloads
You're located in category:
Cannon Smash
Of all sports, table tennis has rarely been the subject of computer version. Sure, there's Pong and Arkanoid, which feature simplistic hit-ball-with-paddle action, and then there's also Shufflepuck Cafe and similar air hockey games. But a game about table tennis as a sport is few and far between. Luckily, Cannon Smash has arrived, and fans of the sport can now rejoice.

The fact that the game is a freeware title with rough-looking graphics belies its sophisticated gameplay that is both challenging and fun. I'm far from being a table tennis champion, but I've played enough matches growing up to recognize a fast slam from a "trick" shot close to the net. Cannon Smash, using a surprisingly simple mouse-based interface, allows you to do both. You can slam a fast ball aimed at the opponent's corner, pull off a powerful serve, or even execute a curve ball. While the players look like walking ellipsoids (similar to Ecstatica), their movements recall 4D Sports Tennis for being quite realistic. Overall, if you're a table tennis fan like I am, you'll probably enjoy Cannon Smash. A multiplayer option is even available, and beginners can practice in training mode before joining a real match. A tournament mode is unfortunately not available, so long-term play value is a bit limited. Here's hoping that the author continue to improve this very promising rendition of one of Asia's most popular sports.
Download full game now: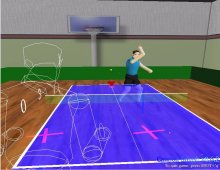 Cannon Smash screenshot
People who downloaded this game have also downloaded:
Shufflepuck Cafe, California Games, California Games 2, Cricket 97, Tennis Cup II