Game Downloads
You're located in category:
Bully's Sporting Darts
Review 1:

Most likely the best darts game I have played. Although this is mostly based on that only very few darts games exist this game does have certain things that make it a good and serious darts game. You start the game by selecting what kind of game mode you would like to play in. Of course the most popular ones are included like 501 and around the world but also smaller and less known darts modes are available. A nice addition in my opinion although not many know the rules for each of the available game modes.

The controls in the game is most likely the biggest challenge of all in the game as you just see a hand with a dart and then you have to place as good as possible next to where you want to hit. But at the same time the hand shakes a lot so you have to click at the exact time in order to hit what you want. While it's hard to at first you quickly get used to it and soon you know where the dart will hit exactly depending on where it is.

In Bully's Sporting Darts you can play against either the computer or another human player in all the different game modes. The graphics are decent but nothing special but they do they job and that is what counts. The sound is pretty much non-existing but again not really needed in a game like this except maybe for all the cheering when you win (yeah, you would like that wouldn't you?). Overall a nice game taking up the challenge in making a good darts game - and in my opinion doing pretty well.

Review 2:

This one's surely a game for darts-fans. Others might have their fun as well though. Apart from the standard darts game "501" where the one reaching 501 points first (and that means exactly 501) wins there's also the game "clock" as well as several adaptions of sports games. Some of them are more interesting, some... less. Tennis for example is a nice idea, but in fact pretty much unplayable as you have to hit the EXACT part of the board that is highlighted - and that's always one of the small ones, not the bigger ones. You might hit it sometimes, but since you always only got one try (unless it's your service, then you got 2) chances are low.

This game can only be played by 2 players (no computer opponents available) and you can use keyboard and/or joystick - I recommend using the keyboard though.

Review 3:

Well, you won't play darts with tennis or golf balls in this game - although the game title and box cover might tell you that. Bully's Sporting Darts is a fairly decent darts simulation, or better said: It's as decent as such a game could get, as darts is certainly not a game shouting for a computer conversion. Very similar to 180 by Mastertronic, just that it offers additional playing variations to the standard 501 game. And here comes the title into play: Bully's features football, golf, cricket and some more differnt sport-inspired counting rules. Give it a try if you can't live without a darts game. For everyone else... you know.

Review 4:

Typical darts meet untypical rules - Bully's Sporting Darts mix with other sports such as football, tennis or golf to create all new sets of rules for two player games! You still play DARTS and not any other sports, but your goals are somewhat different. You will have to hit specific values in order to advance until you actually win. Each "game" has its own rules, but I am afraid you will have to discover them for yourself. Have fun!

Review 5:

Quite a nice darting game, which looks simple, but you need quite some practice to throw as it is quite hard. You can play all kinds of darting games, like here I play '501'.
Download full game now: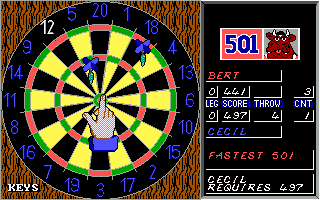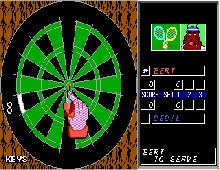 Bully's Sporting Darts screenshots
People who downloaded this game have also downloaded:
Championship Manager 2, California Games, California Games 2, Deluxe Trivial Pursuit, Games, The: Winter Challenge