Game Downloads
You're located in category:
Brutal Sports Football
Review 1:

Another football clone. And a fun one. It's a combination between the original football (soccer to you US folks) game and American football.

Each team have a goal and you score a goal each time you get the ball into the goal (surprise). All though this game is a sports game it still contain a lot of violence and you have to act fast if you want to avoid getting slain by your opponents.

Of course you can play in two player mode and play in tournaments as well. The graphics are also quite detailed with fitting sound. A recommended download.

Review 2:

A good blend of fantasy football and soccer game that isn't very original, Brutal Sports Football still offers plenty of knuckle-blistering action. Lead a team through increasingly difficult matches to win the championship. The game's sole focus on furious action and the lack of in-depth play tactics makes it appealing to both action gamers and football fans looking for a quick distraction from complex sports titles.
Download full game now: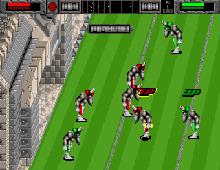 Brutal Sports Football screenshot
People who downloaded this game have also downloaded:
Speedball 2, Championship Manager 2, Hardball IV, NFL Football, 4th and Inches