Game Downloads
You're located in category:
Blades of Steel
Review 1:

I have to admit I am not the biggest of all ice-hockey-experts. This game at least doesn't look bad, unfortunately it seems to be annoyingly hard. In case the computer-opponent shoots at your goal your controls are immediately switched to your goalie - usually it's a matter of luck if you can react in time. The other big downpoint is that it is often extremly hard to see which player got the puck. Often it is the blinking one - well, not all the time - and since there is always one blinking guy per team it doesn't help you THAT much - I had situations when I tried to get the puck back from the other team only to realize that I had it all the time and just handed it over. This is really unecessary. Also you will have fun trying to score yourself - usually you can shoot however you want, you will always hit the goalie first, your only chance is to get the puck back immediately after the goalie tried to shoot it away - sometimes you can score this way. Please note that all this only refers to the EASIEST level. I didn't dare to try the higher difficulties.

You now got 2 options: back off (if you didn't already have) and get another game or try your luck and see if those problems only occur to weak players like myself - hehe, your choice.

Review 2:

Excellent PC port of arguably the best action-oriented hockey game ever made for the NES, Konami's Blades of Steel offers full-out, white-knuckled action at its blistering best.

Gameplay is hockey at its rawest, action-packed level. Although there are stoppages of play-- e.g. roughing and icing, the referee is quite lenient, so you can typically play as aggressively as you want to get the puck. The only penalty comes after a fight, where the loser gets sent to the penalty box. Blades of Steel has a great fighting interface that resembles arcade fighting games, and is a great mini-game in and of itself. Gameplay in the rink has been simplified to basic pass and shoot function-- the only way to direct a shot is to follow the arrow that constantly moves up and down, and even that is only available for penalty shots. You control one player at a time, either on offense or defense, with the ability to switch to the goalie at any time. Controls, both via keyboard and joystick, are excellent, although naturally the joystick is far superior and allows for a quicker response time. Player graphics are somewhat blocky and too small, but the animations, especially puck movement, are very smooth.

The bottom line is simple: anyone looking for a realistic, statistics-galore simulation will be very disappointed, but the game is simply a must-have for everyone else who's a hockey fan.

Note: Unfortunately, none of the sequels of the game was ever ported to the PC, perhaps owing to lackluster sales of this PC version. After a decade, Konami ported the NES version to Gameboy color in 2000, a great move that brings the game to millions of new gamers. Unfortunately, its earlier Nintendo 64 version was a failure due to the fact that it strayed too far from the action-packed formula, and ended up as a mediocre hockey sim that is neither realistic nor fun.
Download full game now: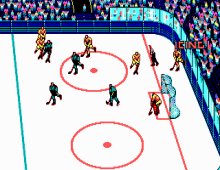 Blades of Steel screenshot
People who downloaded this game have also downloaded:
Face Off, American Gladiators, Oregon Trail Deluxe, Dave Mirra Freestyle BMX, Great Courts