Game Downloads
You're located in category:
Bill Elliott's Nascar Challenge
A solid Nascar racing game that places more emphasis on adrenaline rush than realism, Konami's Bill Elliott's Nascar Challenge is a great arcade-style racing game that also offers plenty of options to keep die-hard fans happy. Endorsed by one of the most celebrated Nascar champions ever, the game features all 8 of the US' most famous Nascar courses, each of which is complete with a short description, along with Bill's personal best time for that track. Although there are only 3 cars you can choose from, you can change its engine type, adjust gear ratio, spoiler angle, and tire stagger to your heart's content before starting the race. Play modes include practice, single, and championship season. You can choose between automatic and manual gear, as well as whether to turn the damage module on or off.

Compared to the best racing sims e.g. Papyrus' Nascar Racing, BENC comes up a bit short on realism and graphics detail, but the overall car handling and damage presentation (skids, crashes, etc.) is excellent. Camera angles are somehow missing completely from the game, so the only view to watch the action is the standard behind-the-wheel perspective. Nevertheless, BENC offers a lot of fun and some very challenging tracks that should keep Nascar fans occupied for hours.
Download full game now: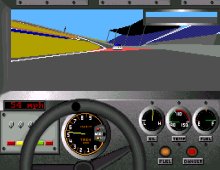 Bill Elliott's Nascar Challenge screenshot
People who downloaded this game have also downloaded:
Face Off, F1 World Championship Edition, Indianapolis 500, Allan Border's Cricket, Brutal Sports Football