Game Downloads
You're located in category:
Vette!
Review 1:

A game featuring the world famous Chevrolet Corvette should be good, right? Sadly, that's not true with this game. What fun, really, is driving the Vette around San Francisco without the real feel for speed?

Vette offers four different types of Corvettes as well as four possible opponent cars for the race around Cisco. But is it really a race? This looks more like a graphical presentation than a real game! And without the feel for speed? Thumbs down.

Review 2:

Considering the age of this game Vette is a really nice looking game and it does in fact offer great gameplay as well. Vette could be described as mix between Need For Speed and Carmageddon in the way you drive and control your car (not how you kill people and try to avoid the police :-]).

A slow down utility might be needed as you can turn the car very fast which I doubt when you play it in a normal speed. You can choose between 4 different cars on 3 different levels. Once you have chosen that you get a description and map of the place you are going to race at. Overall a fun driving game which offers some nice gameplay all though it can be hard to find which way the racer is going once in a while.

Review 3:

A highly underrated racing game, Vette! features great graphics, camera angle options, and multiplayer. It was, in fact, one of the first racing games to offer multiplayer racing via modem, which is implemented quite successfully despite inherent lags that were common in older modems.

The goal of the game, as the name suggests, is to race your corvette against another human or computer player through an accurate reproduction of San Francisco, complete with discernible landmarks such as the Golden Gate bridge. You can choose between store models (stock or ZR1), or a tricked-up 'vette (twin turbo or "sledgehammer"). The game includes an excellent on-screen map display from which you can choose the best route -- there are multiple ways to reach the finish line. You can also switch between views, including left, right, rearview mirror, with or without the dashboard, helicopter chase cam, or a combination of these. Definitely one of the most fun street racing games ever made, with enough realism to satisfy die-hard racers and a gentle learning curve and great graphics to keep beginners hooked.
Download full game now: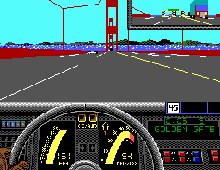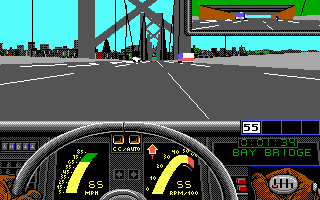 Vette! screenshots
People who downloaded this game have also downloaded:
Car & Driver, Stunts, Street Rod 2, Red Baron, Test Drive 3: The Passion