Game Downloads
You're located in category:
Street Rod 2
Review 1:

Much like the first part, but harder. MUCH harder. If You really enjoy hard games then this is the right one for You. Still the same - buy a car, earn money, buy better car and defeat the final opponent. I'm not sure if it's The King again, 'cause I just couldn't get even close to him!

Review 2:

If you like customizing, racing and tuning; this is the game for you! It's an addicting game with good graphics. It's very extensive and detailed. If a car comes in normal and goes out of your garage as a real racing monster, gives you a satisfaction feeling. Even after an hour.

There's one word for this game FUN. You keep tuning your car and you keep on racing. The big difference between Street Rod I and Street Rod II is that part II is more detailed. This game is become one of my favorite sim/race games. Play it, love it.......

Review 3:

Street Rod 2 - the legend around cars, speed, money and the fame of being King of the Road continues. Basically not much has changed to the first part - you got newer cars (the game seems to be roughly 10 years later - the driver's license you fill in the first screen is dated to 1968, however you can buy used cars from 1969...) and you can race on 3 instead of 2 tracks. You got the drag race you know from the first part - no changes here - but two longer races. The Mullholland Drive being pretty much comparable to the old course (bit more difficult, not too heavy though), the Aqueduct however requires some more skills as you have to use the walls to avoid objects on the ground that would crash your car.

Overall the game sticks to the feeling that made Street Rod famous with some minor improvements in the graphic sector (it's still 16 colors though - but they get a LOT out of it!). You can adjust a little more on your car as well. Again I'd advice you to use a joystick to race - keys are just no good to control the car and keep it on every other than the drag race track (which is only straight forward anyway). Every car freak will enjoy this game, so get it if you're one.

Review 4:

A great sequel to Street Rod that improves upon its predecessor in every respect, Street Rod 2 features more and faster cars, more challenging courses, and new customization options that were added based on fans' input from the first game.

Obviously following the proven "if it ain't broke, don't fix it" school of though, California Dreams retains all the fun of Street Rod while adding many options. In addition to changing engine and transmission, you can now add fuel injector, add muffler mod's, and change the car's gear ratio. The "grudge night" is a new racing mode that pits you against slower cars who are given significant handicaps. In response to many fans' criticism that Street Rod races were far too easy and too short, California Dreams went to the other extreme by adding Road Race and Aqueduct Race in Street Rod 2-- two very challenging courses that are probably impossible for most gamers to finish. If you like Street Rod, you will love Street Rod 2. If you think the races in Street Rod are too difficult, you will likely be very frustrated with this game. Otherwise, Street Rod 2 is simply a must-have for every car lover.

Review 5:

This is one of the most difficult car racing games I've ever played. You start with $1200 and no car. Buy a car, maybe buy some parts for it and go racing against some opponents for money or just for kicks. From easy Drag Racing to some of the most difficult Aqueduct races. Winning in Drag racing means you have a fast car and good gear control, winning in Mulholland and Aqueduct races means you have the better racing skills. Win in a small competition, keep on upgrading your car and become the very best!

Upgrading your car needs some knowledge of car parts, cuz you will have to add car parts manually, that's one of the coolest things I've ever seen in a car racing game.

A very cool game, but the gameplay could have been better, racing is really difficult. That way it's not addicting at all, more a little frustrating, but there is something like a good addiction level in the drag races an the competition. I suggest you check this one out!

Review 6:

Well, street rod 2 by california games, I got this a long time ago, and it was pretty damn good back then, it hasn't however ages all that well though, the grapics are really starting to look quite old and everytime you play it, the graphics just seem to get more boring and so does the game and also the speed of the game seems to be just slower and slower. But back in 1990 it was quite a good game with nice graphics. The difference between street rod 1 and 2 is quite small, the only real differences are the age and type of cars (about 10 years difference) and also theres a few more types of drag races you can compete in in this sequel. There is only a slight difference in graphics for the 2 games too.

The plot of the game is quite simple, you buy used cars and drag race them for money or pink slips, the cars you are able to buy range in price and speed and reliability, the types of cars you can race are Mustang's, Chevy Camaro's, V8 Corvettes, Pontiac GTO's and the very impressive Dodge Charger! You also will be able to purchase used car parts also out of the newspaper's classifieds, you can buy spare parts such as new tyres, manifolds, engines, exhausts, carbies, mufflers, fuel injecters and tunnel rams. other things you can do to your purchased car is chop the roof and bumpers, and give it a new paint job, each will cost you a bit of money and prolly wont impact on the performance of the car too much.

When you start the game, you start off with $1200 bucks, which is just enough to buy you a '63 Vette, which is good enough to start off with and be able to win small amounts of money to build the car up into a bit of a speed machine, sell it and buy something faster and more reliable like the Charger which is a couple of grand compared to the 800 or so bucks for the Vette. The types of races available to race in are the drag race, which can be for $10, $50 or just for kicks, Mullholland Drive for $50 or $150 or for pink slips and the same for the aqueduct (similar to the drag race on the movie grease).

When starting the game, you get the choice of ega/vga/cga/hercules/tandy graphics for graphics and adlib or normal for sound options, the only thing that could have been better about the game is maybe some good aussie cars, perhaps a Monaro!

Copy Protection: Click ok when copy protection question comes up.
Download full game now: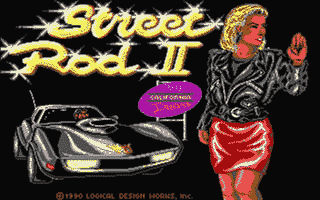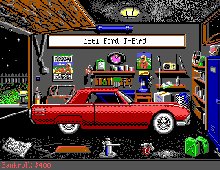 Street Rod 2 screenshots
People who downloaded this game have also downloaded:
Street Rod, Sim Ant, Sim City 2000, SimEarth, SimFarm for Windows