Game Downloads
You're located in category:
Sim City
Review 1:

Being a mayor is not an easy job. Deciding on building new residental areas, industrial zones, commercial buildings, airports, entertainment for the citizens... All this has to be done along with funding the police force, providing medical care and city transport. Are you up to the task? Play this game and find out!

In this business/management simulation, you play a virtual mayor of a city that is about to be built. You start with a certain amount of money which you have to invest and build what I listed above... and not just that. Every building requires both water and electricity as well as road access. As your city grows you will be getting more and more money to invest in city expansion, parks, stadiums... Aside from that, financial aspect must be taken care of as well. How high will the taxes be? How much will you pay the police and firemen? Hard decisions...

Sim City is a legend that started a new genre in computer gaming. Do I even have to say that?

Review 2:

Well, this one is famous. The biggest and best city simulator of all times. Build a city, get more money and go on with building. This game is a living legend I must say.

Review 3:

SimCity was Maxis' first product, which has since been ported into various personal computers and game consoles.

The inspiration for SimCity came from a feature of the game Raid on Bungeling Bay that allowed Wright to create his own maps during development. Wright soon found he enjoyed creating maps more than playing the actual game, and SimCity was born. In addition, Wright also was inspired by reading "The Seventh Sally", a short story by Stanislaw Lem, in which an engineer encounters a deposed tyrant, and creates a miniature city with artificial citizens for the tyrant to oppress.

The original working title of SimCity was Micropolis.

SimCity inspired a new genre of video games. "Software toys" that were open-ended with no set objective were developed trying to duplicate SimCity's success.

Review 4:

SimCity (also known as Micropolis) is a game published in 1989 by Infogrames Europe SA, the theme is managerial. It features a simulation genre and uses a top-down perspective.

In 1990, Maxis made the first and legendary Simcity, a city construction simulator. Starting in 1900, no buildings exists and you have to create road, create industrial and residential zones, school, police stations and much more to make you city grow.

Sometime you have to face natural disasters like a twister or a flood. In the free mode no goal is set, so the victory or the defeat does not exist. You may also play a scenario where you have a limited number of year to change the city. Several problems exist : high criminality, traffic jams, nuclear disaster or very high unemployment. The game was a big it and a lot of Sim games followed later on, though the second opus, sim city 2000, is seen as one of the best.
Download full game now: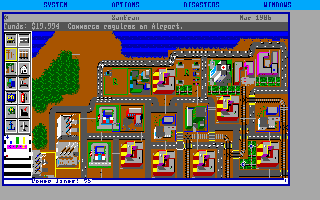 Sim City screenshot
People who downloaded this game have also downloaded:
SimCity Classic, Sim City 2000, SimEarth, Sim Ant, SimTower