Game Downloads
You're located in category:
Railroad Empire
Railroad Empire is an older version of ArtDink's underrated A-Train railroad simulation that was published by Maxis in the U.S. Although two years older than its better-known predecessor (no surprises here, given that it was hardly sold outside Japan despite being a huge local success), ArtDink's excellent economics model and weather effects are unmistakable. As in Sid Meier's best-selling Railroad Tycoon, Railroad Empire lets you start your own railroad empire from scratch in either the U.S. or Europe, although the it is much more simplified as there are only two cargo types: passengers and freight. Also unlike A-Train, the game is purely a railroad management game that will appeal more to engineers than to financial wizards: you cannot speculate or buy any real estate properties, and the stock market is nonexistent.

Anyone who delights in constructing continent-spanning tracks and manage dozens of trains in real-time, and don't mind abstract depictions of tracks and trains, will find the game very enjoyable. Those who want more in-depth management options and a chance to speculate in land and stocks along the way should do well to pass this one up and play A-Train, ArtDink's superior update of this forgotten old game.
Download full game now: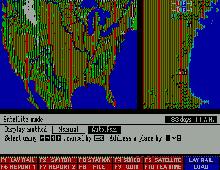 Railroad Empire screenshot
People who downloaded this game have also downloaded:
Sim Ant, SimTower, SimFarm for Windows, Railroad Tycoon Deluxe, Yoot Tower