Game Downloads
You're located in category:
Grey Wolf: Hunter of the North Atlantic
The submarine sim experts at Subsim.com says it all in a very thorough review about this marginally average, little-known WWII U-boat submarine sim:

"The package containing the Grey Wolf - Hunter Of The North Atlantic U-boat simulation is very alluring. A handsome picture of a U-boat beckons you for a sea trial. The gameplay of Grey Wolf doesn't quite match that shine, but it tries.

How about realism? Well, you do have limits on your fuel and batteries, and you carry a limited number of torpedoes. The Jane's 688(I) crew must be moonlighting in Grey Wolf because the crew here achieves reloads in less than a minute. Maybe ProOne felt that realistic 30 minute reload times would put off players. Too bad you don't have an option here, as you do in Aces. While taking damage, you may be told you must surface to affect repairs, which keeps you honest. The performance profile of your GW U- boat is much too good, though. Changing depths, headings, and speeds happens in a third of the time it should take. Overall, Grey Wolf is not as realistic as Silent Hunter or Aces. It measures up to a pre-patch version of Jane's 688(I). You have a choice of any U-boat in the Third Reich's Navy, as long as it is a Type VII. There are no aircraft in this game, so no deck gun action. Keep your focus on torpedoes, Kapitan.

Grey Wolf has a decent interface, and the mapview has a static quality, which is what is needed in a simulation. No miniature ships here with wakes and real-time course changes. The drawback is you are limited to one patrol zone per mission. Each mission begins with an assignment to patrol a grid. And at the beginning of each patrol, the surface ships are present and awaiting your torpedoes. There aren't any random searches, just point and shoot. Grey Wolf features decent if simple mood music, always a plus. And the cut-away scenes are varied and pleasing. When you leave port you are shown a sleek U- boat cruising away from the heavily-fortified submarine pens and out to the ocean.

Though there's not much stimulation to this simulation, Grey Wolf is still being played. If you demand only the most current sim, look elsewhere. But, if you want to introduce a younger player to the Battle of the North Atlantic, or if your PC is hardware challenged, Grey Wolf is fine. It won't make you use boot disks or rewrite your config files to get it playing. And if you are a naval/subsim connoisseur--if you want to have the experience of playing every sim possible in your resume-- Grey Wolf is an affordable candidate. But watch out, you may have fun too!"
Download full game now: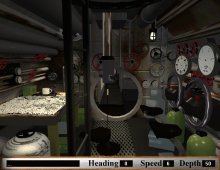 Grey Wolf: Hunter of the North Atlantic screenshot
People who downloaded this game have also downloaded:
Command Aces of The Deep, Sub Battle Simulator, Great Naval Battles 5, 688 Attack Sub