Game Downloads
You're located in category:
Chronicles of Jaruu Tenk, The
Billed as a "revolutionary screen entertainment package," The Chronicles of Jaruu Tenk is a neat and quite unique simulation that is part "life simulation" a la Little Computer People (or more recently, Creatures), part screensaver, and part free-form exploration game. Set in a fictional island of Bloofen Jut, Chronicles follows the exploits of Jaruu Tenk, a fox-like explorer. By exploring the island and talking to Jaruu and his friends you can find out more about him and his fascinating world.

Chronicles isn't really a "game" because there is no ultimate goal you must accomplish. Your only "objective" is to find out as much as you can about Jaruu and his fascinating world. You can talk to the inhabitants, read up on the history of the world, and even play games with Jaruu. Or you can simply just sit back and watch as things unfold in real time - the game can be set as a "screensaver" that shows Jaruu or some other inhabitant doing their things, not unlike Sierra's popular Johnny Castaway Screen Antics screensaver.

Chronicles isn't just a merely pretty screensaver, though. The game boasts an excellent "AI Language Parser" that allows you to type questions to ask Jaruu or his friends. Jaruu is intelligent enough to know what you are talking about, and remembers things that you have told him. The gameworld is also wonderfully dynamic: Jaruu for example updates his journal (which you can read) on a daily basis, and many books contain new information when you read them again. The more you find out about Bloofen Jut, the more you will accumulate information, and the more sophisticated Jaruu becomes.

As can be expected from the designers of Halloween Harry and its sequel, Chronicles has excellent graphics and sound effects. You can maneuver very easily through Jaruu's 3D world, and take advantage of 3D card support. All in all, The Chronicles of Jaruu Tenk is a fun screen entertainment that deserves much more attention. If you're looking for either a unique screensaver or a fun time waster, check out this old game.
Download full game now: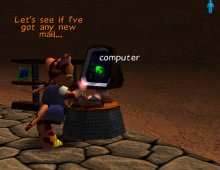 Chronicles of Jaruu Tenk, The screenshot
People who downloaded this game have also downloaded:
Airline Simulator 97, Deus, Archimedean Dynasty, Flying Saucer, Galapagos: Mendel's Escape