Game Downloads
You're located in category:
Battleship Bismarck
Having Enjoyed GQS's Midway: the Battle that Doomed Japan, I was much dissapointed with Battleship Bismarck, another naval wargame that deals with the famous battle of the North Atlantic in early World War 2 between Germany's great battleship Bismarck and the English fleet and search planes.

It is not that game is bad, if viewed in 1987 eyes, but now in 2001, the game's cga and keyboard interface becomes terribly detracting. In Midway, the battle is an exciting clash of two forces, managing carrier strike forces, and searching for your enemy in the vast pacific. With the nature of that tense and even battle, Midway overcomes this similar interface. Bismarck, however, deals with submarine deployments and moving around with a very few ships. It is a hunt and destroy game for both sides and quite frankly it gets very dull. IF you are a fan of the Bismarck and the North Atlantic campaign..try it, you might think it is the best recreation of the battle out there. But, if you want to play a wargame, skip this one. It's terribly dated.
Download full game now: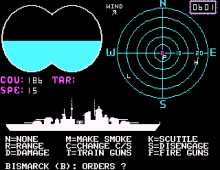 Battleship Bismarck screenshot
People who downloaded this game have also downloaded:
Carrier Command, Destroyer, 688 Attack Sub, Action in The North Atlantic, Great Naval Battles 5