Game Downloads
You're located in category:
A.G.E. (a.k.a. Advanced Galactic Empire)
Galactic Empire and its sequel A.G.E. (= Advanced Galactic Empire) are early first-person space/adventure hybrid from Coktel Vision. Both games sports a fast 3D engine with beautiful graphics - as one could expect from Tomahawk/Coktel Vision.

Gameplay is nothing new to fans of space operas: pilot your spacecraft around the planets and stars, engaging in space combat and conversation with other characters to further the plot (conquer-the-universe cliche). The games are similar to Elite in that you are relatively free to travel to wherever you please, but here the plot is much more linear, and you can't do much without running into the next event that trigger plot advance. A.G.E. updates the engine with beautiful VGA graphics, and features various in-game help options which make it much easier to overlook the lack of the manual. Not great games, but worth a look if you like games such as Cybercon III.

Note: Neither game works well on Pentium II but run fine on 486 or slower computers, so be warned-- you will likely need to not only slow down utilities but also DOS savvy to see these early games.
Download full game now: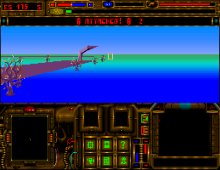 A.G.E. (a.k.a. Advanced Galactic Empire) screenshot
People who downloaded this game have also downloaded:
688 Attack Sub, Begin 2: A Tactical Starship Simulation, A-10 Tank Killer v1.5, Back to Baghdad, Aces of The Deep