Game Downloads
You're located in category:
1000 Miglia
Review 1:

Although the game looks nice there is actually nothing much about it. It takes place on the famous Italian 1000 Miles rally and is driven by the old, 1930's race cars. Select your car and drive through Italy.

This game should have been better. It looks and plays too much like the old arcade racing games from Spectrum and Commodore 64 games, but PC is much stronger machine and that should have been used much more than it was. You may still enjoy this game for a while.

Review 2:

Quite a different racing game while it still sticks to the regular way of arcade driving games. Similar to the popular Outrun games you see your car from behind and you will have to drive through a track based on time. You start the game by selecting what drivers you want and you can see their names and what kind of car they have. This part of the game is well done as it's sticking to the theme of the cars (I will get back to that).

The unique part of this game is that you aren't driving in the latest Formula One car or the newest Porsche but actually very old veteran cars (you will be surprised of how fast they can drive in this game). I don't remember seeing this in any other arcade driving game but I have to say it's a brilliant idea and I wonder why no other company has though about this before. It can still be fun to race against other card even if the car is more than 50 years old.

Overall an average game because of the lack of new content in the actual game but still different because of the starting selection in the game and also the unique theme. Both graphics and sound is within the category as well so not particular exciting.

Review 3:

One of the first "historical racing games" ever made, 1000 Miglia from Italian developer Simulmondo is a great racing game that lets you experience the thrills of the "Mille Miglia," a famous annual "one thousand miles" racing event in Italy in which all the racers must use period cars - no sleek modern F1 here. As in the actual race, you race cars from the 1927-1933 period in one long race around Italy, passing Brescia, Ferrara, and Rome.

The game offers excellent graphics and a lot of depth. Before each race, you can take up to 6 spare parts with you from a wide selection of parts including spark plugs, spare tyres, fuel pumps, fan belts, extra batteries, dynamos, and more. The intro screen before each leg of the race is full of good information including brief description of the leg (e.g. "generally flat course with a few difficult 'S' bends"), length, road surface, and weather forecast. The controls are easy to learn, and the presentation is intuitive with all vital information presented in the bottom of the screen. If you enjoy unique racing games or driving period cars, 1000 Miglia is a fun, highly underrated, and unique racer you will probably enjoy. Highly recommended.

Review 4:

Drive through italy in the famous Italian 1000 Miles rally. The graphics are cool as are the really old cars you drive. The game itself is not very addicting..
Download full game now: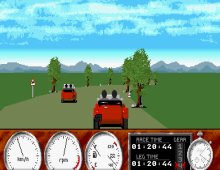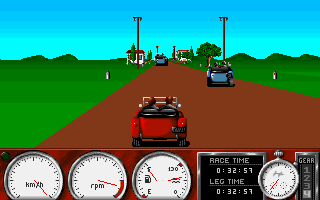 1000 Miglia screenshots
People who downloaded this game have also downloaded:
688 Attack Sub, 1869, Car & Driver, Blue Max: Aces of the Great War, A-10 Tank Killer v1.5