Game Downloads
You're located in category:
Shadoworlds
Shadoworlds is the less-known sequel to Domark's underrated RPG Shadowlands, this time with a fantasy plot replaced by sci-fi setting. Similar to Shadowlands, you control a party of four characters, sent to investigate the mysterious lack of communication from a research facility in Magna 6 star system.

As with Shadowlands, what sets Shadoworlds apart from other RPGs is the innovative graphical system, featuring a technique Krisalis called superphotoscaping - the highlight of which is real-time lighting. As your characters walk around the screen with a light source in hand, areas around them become brighter or dimmer as appropriate, and the effect of seeing huge monsters appear out of the shadows is appropriately spooky. Unfortunately, the game lacks moody music that would make the effect even more convincing. In fact, the only music is heard on the character selection screen. In-game music is completely absent, and although there are some decent sound effects (i.e. doors opening, switchesbeing pressed and, of course, the crackle of laser fire), they are nowhere near enough. The silence may have been deliberate, i.e. to add atmosphere and tension to the situation, but instead ends up making the game feel very empty.

User interface is intuitive, and the graphics are more than adequate (they are more than a little inspired by Japanese anime). There are some innovative weapons, such as the two-part kind. You find various barrels and various stocks - which can be mixed and matched to create whichever variation you prefer. For instance, combining a flame stock with a cannon barrel creates a flame-cannon, but if you put a rifle barrel on instead, you get something more akin to a flame-thrower.

In the end, Shadoworlds is a good attempt at improving on Shadowlands, but ends up merely as an uninspired sequel. The cool lighting system is obviously overused—there are too many pitch-black levels in the game (no doubt waiting to be lighted by your gunfire or light source), making gameplay much more frustrating than it should be. Recommended only if you really like Shadowlands, otherwise there is plenty of better RPGs to keep you occupied.
Download full game now: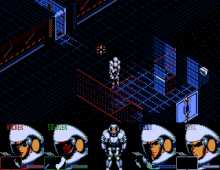 Shadoworlds screenshot
People who downloaded this game have also downloaded:
Shadowlands, Shadowcaster, Lord of The Rings 2: Two Towers, Sundog: Frozen Legacy