Game Downloads
You're located in category:
Phantasie 3
Review 1:

The third and final volume in the great but simple roleplay series. You can create up to six different characters each with their own look. There are of course the most usual features included suck as experience points, skills etc. You can explore many different dungeons, castles and caves.

The combat engine is very simple where each of your characters is located in a row and that means only certain people can reach the enemies when you fight. This is not seen in all other roleplay games. The games also has a rather special of showing that your characters are wounded or has lost am arm etc. by showing only one leg at the picture. I suggest you get this game if you like roleplay games.

Review 2:

An enjoying little RPG from the old days this one. Basically it's the old story, kill monsters, train your characters, wander around, explore dungeons. The game is pretty much like Phantasie, but the engine got a bit better here. The character-system is very detailed (for its time) and the atmosphere is good. If you don't give much on graphics this might be a nice game for you. It sure is one of the lesser known classics.

Review 3:

Phantasie games are early RPGs that should be credited as among the first to feature excellent combat options (e.g. different styles of attack), "bank" concept where you deposit the loot, and excellent variety of spells and monsters. These games were a big hit on Commodore 64, but their 4-color IBM port, predictably, didn't do as well. Too bad Phantasie 2 was never ported to the PC.
Download full game now: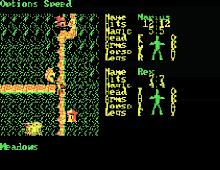 Phantasie 3 screenshot
People who downloaded this game have also downloaded:
Phantasie, Pool of Radiance, Betrayal At Krondor, Pools of Darkness, Bard's Tale 1