Game Downloads
You're located in category:
Neverwinther Nights
Review 1:

Now you might think this is one of the most anticipated roleplay games in this century but it really isn't. It is actually the game made before by Strategic Simulations Inc. that was setup for users of the AOL service and therefore almost only played online.

Neverwinther Nights used the famous hack-and-slash game engine also seen in Champions of Krynn, Pool of Radiance, Gateway to the Savage Frontier and many more. While the game was made for online gaming it is possible to play the game offline as it contain all the same content like dungeons, characters, items etc. Sadly you can't really develop your character as you can't save so of course not many will find it that much enjoyable then but if you are a fan of these kind of games there are still a good chance that you will find at least a few good moments with the game.

The graphics are simply and so is the sound but if you already know the other games in this genre you won't mind and you can at once start the game as it is the same interface. Neverwinther Nights is not a recommended game if you are looking for a "real" game though simply because it was made for online gaming.

Review 2:

This precursor of BioWare's Neverwinter Nights was an online rpg that was running on AOL for most of the nineties. It uses the same engine as the popular goldbox AD&D games by SSI, and all the usual features are there. If you have played any of the other goldbox games, this one holds no surprises.

While this offline version has all the areas and features of the online game, the unfortunate fact that one cannot save the character makes playing it somewhat pointless. There is some entertainment to be found from just exploring the game area and slaying some monsters, but in the end I can only recommend it for those who want to complete their collection of goldbox AD&D games.
Download full game now: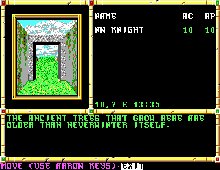 Neverwinther Nights screenshot
People who downloaded this game have also downloaded:
Pool of Radiance, Pools of Darkness, Curse of the Azure Bonds, Secret of the Silver Blades, Dungeons & Dragons: Warriors of the Eternal Sun