Game Downloads
You're located in category:
Neophyte: Koplio's Story
In 1996, Alien Software released the first three episodes in the Neophyte universe, an RPG gameworld similar in style to anime RPGs commonly seen on console systems. The episodes, all released as shareware although they are complete games in their own right, quickly garners a sizable cult following among fans of console RPGs. It's safe to say that until Squaresoft ported its successful Final Fantasy series to the PC, there was never a better-looking, more faithful console-style RPG than Neophyte. Unfortunately, Alien Software disbanded, and the complete game (which would combine these freeware episodes, as well as additional ones, in a huge gameworld) was never released.

Koplio's Story is the second entry in this classic shareware series. The game is set in the same universe, but with different characters. You are Koplio, a young monk who is about to receive his Sigil of Passage. But all is not well within the monastery. Rumors of the reemergence of the Grand Malefactor, Vacmatio, have traveled even as far as Semident. Very recently strange rumblings have been heard from the forbidden basement of the monastery, disused for hundreds of years. But what is worst of all is the earthquake which hit the monastery last night. Part of the building has collapsed, including the entrance to the holy vault where the Armor of Gorus should be safely stored. Can you, Koplio, manage to solve the mystery of the earthquake, and perhaps recover the Armor of Gorus in the process? Without it, you can never take your vows. Worse yet, if the Armor has fallen into the wrong hands, it might mean the end of an era of peace.

Similar to the first game, the gameplay in Koplio's Story is "light" RPG that is very enjoyable. Your young alter-ego like the rest of the talkative people he meets along his quest, is crafted with a definite anime style that initially looks a little underdone but still manages to charm you with its simplicity. The storyline is original this time around, and excellent anime-style graphics will draw into Koplio's world and make you want to keep playing well into the wee hours. Overall, a much better game than its predecessor in every respect-- highly recommended for fans of console-style RPGs.

The best news is that although Alien Software may be gone, the new operator of their domain name has acquired the rights to distribute these shareware gems on the website. Go there today to download one of the most overlooked anime RPGs ever made!
Download full game now: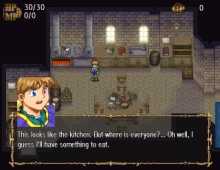 Neophyte: Koplio's Story screenshot
People who downloaded this game have also downloaded:
Neophyte: The Journey Begins, Neophyte: The Spirit Master, Treasure Hunter G, Lord of the Rings 1: Fellowship of the Ring, Lord of The Rings 2: Two Towers