Game Downloads
You're located in category:
ICON: Quest for The Ring
ICON: Quest for The Ring and Seven Spirits of Ra are two very revolutionary real-time RPGs that are unfortunately overlooked by most gamers. The reasons on why they deserve a permanent spotlight in RPG history are elaborated in great detail in MobyGames' feature article about Macrocom, the company behind the games:

"A small and interesting pocket in PC gaming's history is filled with products like ICON: Quest for the Ring and Seven Spirits of Ra, both developed by a small company called Macrocom. Unconventional only begins to describe these two products, which not only pushed the early IBM PC to its technical limits, but also broke new ground in gameplay ideas and execution.

You'd be hard pressed to find a more unique game than ICON in the 1980s, for example: Based on Wagner's Reingold opera (!), it featured 16-color graphics on a video card that was only technically capable of 4-colors in graphics mode. The gameplay was real-time, and was calculated and animated at 60 frames per second. And this was in 1984 -- their later project, Seven Spirits of Ra in 1987, was even more ambitious as it tackled the Osiris resurrection myth of ancient Egyptian mythology." If you are looking for truly revolutionary games that broke the mold, look no further than these two forgotten old games. Designers Neal White III and Rand Bohrer have also made ICON freeware following the MobyGames interview—a generous act for fans of old-skool RPGs.
Download full game now: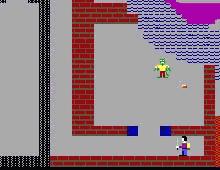 ICON: Quest for The Ring screenshot
People who downloaded this game have also downloaded:
Curse of the Azure Bonds, Seven Spirits of Ra, Dragon Wars, Pool of Radiance, Lord of The Rings 2: Two Towers