Game Downloads
You're located in category:
Goldrush
Another fine Sierra adventure game, this time in the wildwest. This game starts off during the great gold rush in California. You're a young guy, named Jerrod who has a good job, a satisfied boss and a nice house. However, you still are determined to go look for gold in California. There's a man in town who sells boat tickets to go to California at the prices of 650 and 900 dollars. But this is an adventure, so you've already guessed it, you have only 15 dollars!

Well, it's up to you to find out how to get in California and maybe you can fullfill his wish to see his brother Jake again. That would be great, wouldn't it? Re-uniting 2 computer game characters! How touching...

Anyway, the graphics are not really special, just the basic graphics for a game of its time, gameplay is fine, sounds are, well, annoying and the addictivity is more that average.

It's quite an interesting plot to play and I must say, you can replay it. Maybe not immediatly, but due to the fact that you can walk around the world freely without alot of restrictions, it's quite a good game for its time. The choices you make affect the game in total, giving you new gameplay when playing the game differently. Maybe up to 3 or 4 times. This makes the game very unique. I recommend this one or at least I suggest that you try this one out!
Download full game now: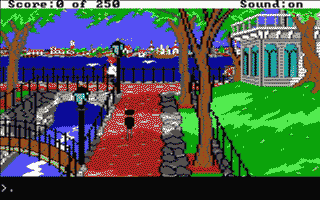 Goldrush screenshot
People who downloaded this game have also downloaded:
Betrayal At Krondor, Police Quest 3: The Kindred, Oregon Trail Deluxe, Lord of the Rings 1: Fellowship of the Ring