Game Downloads
You're located in category:
Bard's Tale 2: The Destiny Knight
Every game that sells well deserves a sequel, and here it is -- THE BARD'S TALE II: THE DESTINY KNIGHT. Might is not always right, but in this game it sure doesn't hurt to have some on your side. It seems that lawless mercenaries (with a bit of help from the evil Archmage known as Lagoth Zanta) have taken the Destiny Wand. The Destiny Wand has maintained peace and prosperity in the Realm for 700 years (impressive, isn't it?). You and the characters you create must find and reforge the Destiny Wand! You must then use the wand to destroy Lagoth Zanta. The wand has been separated into seven pieces. Each piece is located in a dungeon protected by a snare. Before you can begin your quest to find the Wand, you need characters to hunt for it. You can select from seven races (Human, Elf, Dwarf, Hobbit, Half-Elf, Half-Orc, and Gnome) and ten classes (Warrior, Paladin, Rogue, Bard, Hunter, Monk, Conjurer, Magician, Sorcerer, Wizard, and Archmage). Some classes are not available to beginning characters. You can port characters over from the last BARD'S TALE or use your ULTIMA or WIZARDRY characters. Special characters can also be introduced into your party (illusions and monsters count as special characters). Your magic users have a total of 79 spells at their disposal, and your bard has a total of seven songs that can cause strange things to happen. With this arsenal of characters and magic you will venture out into the realm of The Destiny Knight to discover cities, special buildings, casinos, banks, taverns, temples, and the ever popular dungeon! So, buy your bard a drink, cast a Batchspell and prepare to destroy Lagoth Zanta before he destroys you! Oh, yes: Don't forget your Archmage!
Download full game now: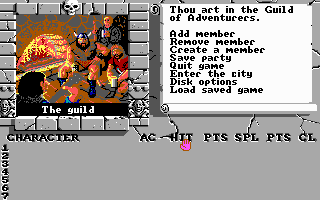 Bard's Tale 2: The Destiny Knight screenshot
People who downloaded this game have also downloaded:
Bard's Tale 3: Thief of Fate, Bard's Tale 1, Curse of the Azure Bonds, Pool of Radiance, Eye of The Beholder 2