Game Downloads
You're located in category:
Abaddon
Another solid entrant to the relative obscure world of fanmade RPGs, Abaddon is a fun anime-style, top-down RPG similar to console hits such as Dragon Warrior, with many notable differences. In contrast to the cliché fantasy world in which you are hero who must fight evil/save the world/rescue princess, Abaddon is set in a post-apocalyptic world. You are Duke Gilead, an aging, egomaniacal despot who is trying to find the secret to immortality to avert imminent death.

The world of Abaddon is probably best described as a "futuristic dystopia" not dissimilar to Interplay's classic Wasteland. The controls are simple to learn: everything can be done with the keyboard, from conversing with NPCs, choosing attack options during battles, and moving the Duke around. Abaddon uses the traditional, but hugely entertaining, branching approach to dialog and events, where you're given a number of options for each action. This helps make the game open-ended enough that you can replay it later to see what a different choice would bring. As in traditional console RPGs, you will need to defeat monsters to advance in levels, and collect coins and other items to prepare for tougher battles. The graphics are crisp and clear in VGA, with very good details, particularly of run-down buildings. Although most monsters are derivative of other RPGs, there is a few—most notably robotic kinds—that deserve high marks for originality as well as challenge.

In summary, Abaddon is one of the best games so far to have come out of the amateur RPG community. The designer's stated goal for the game was "... to capture what made [the tabletop RPG Gamma World, the excellent CRPG Wasteland, and the amazing Anime of Battle Angel Alita and Akira] so unique and the fun of ploughing through the ruins of the ancients with a chainsword in one hand and a garbage can lid as a shield in the other :)." While his ideals may be too lofty, Abaddon is an admirable attempt, one that should please fans of post-apocalyptic games and Zelda-style games alike. Recommended!
Download full game now: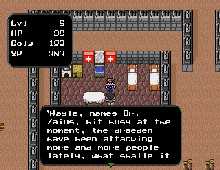 Abaddon screenshot
People who downloaded this game have also downloaded:
Albion, Bahamut Lagoon, Aleshar: World of Ice, Betrayal At Krondor, Avalon