Game Downloads
You're located in category:
Ra
Review 1:

Yet another exquisite puzzle-game from 1990. Nice background story: in ancient eqypt you forgot to do your religious duty towards Sun-God Ra - as a punishment you are turned into a bug (not a spider like stated in the attached doc). Your only chance to become human again is to find your way out of the 100 levels of a pyramid. To advance into the next level you got to solve one puzzle per level - you have to make all the pieces vanish. They only do this if they are either horizontal or vertically on one line. This starts easy, but in the higher levels you won't be able to move all of the pieces around. And some other mean things will await you there too. A good idea and every puzzle-fan will love it. You can also play this in Arcade-mode which means time-limits and some other things. Really worth a try this game.

Review 2:

The mighty Egyptian god Ra has transformed you into a Scarabeus and then put you into the depths of a pyramid for 1000 years. The only chance Ra left you to get back to human form and out of your prison is by solving the riddle of the pyramid. But that's a very dangerous task...

Ra is a nice puzzle/logic game by Rainbow Arts with an ancient Egyptian theme. The game plays like Chinese game of Mahjongg, crossed with Sokoban and a dash of Rainbow Arts' own Logical for good measure. At the most basic level, it's another clear-the-field-by-matching-same-tiles kind of game, although each level is cleverly designed (with missing gaps to make moving pieces harder), and pieces are cleverly placed. Fun if you like brain-teasing games in this mold. As an added bonus, the the game includes a level editor and a so-called "arcade" game mode in addition to the logic one to appeal to fans of quick-decision games.
Download full game now: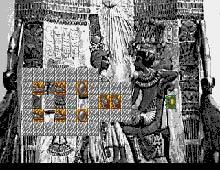 Ra screenshot
People who downloaded this game have also downloaded:
Lode Runner: The Legend Returns, Pharaoh's Ascent, Quadrax, Incredible Machine 3.0, The, Lemmings 2: The Tribes