Game Downloads
You're located in category:
Kaiser Kitty
Kaiser Kitty is a fun third-person arcade-blended puzzle game starring a cat. Your job: find and retrieve the stolen "Kitty Edge" blade, a " a ceremonial blade passed down through generations of Kittyland rulers." You do this by making your way through more than 20 challenging levels. Naturally, it is not as easy as it sounds: you have to pick up all the crystals on each level to open the exit door. As befits a puzzle game, you cannot just shoot your way out - in fact, you can't even jump in Kaiser Kitty. What you could do, though, is change the direction of gravity thanks to the "gravity control device" you carry. This lets you walk on walls or ceilings, as well as move small objects like crates out of your way. Naturally, things fall down when you change the direction of gravity, so a big part of the puzzle is to figure out the right sequence and the right directions to use the device. This makes the game very visual, an aspect that I really enjoy and hope more puzzle creators focus on.

Needless to say, the game increases in difficulty level, but the increase is gradual and none of the puzzles is too difficult (although I must admit it took me 3-4 tries to beat the last few puzzles). You have unlimited lives, and the game comes with autosave - you are asked whether to "continue last game" when you die. These two features help make the game much more beginner-friendly. All in all, Kaiser Kitty is a great little puzzler that is easy enough to attract beginners, but interesting enough to keep expert puzzle fans glued to the screen until the sabred blade is found. Be warned, though: the game is not a straightforward brainteaser: some reflexes are required as you often have to move Kitty quickly from harm's way when things start to fall down. Highly recommended!
Download full game now: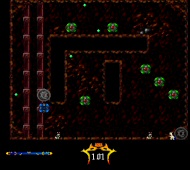 Kaiser Kitty screenshot
People who downloaded this game have also downloaded:
3D Lemmings, Incredible Machine, The, Lemmings for Windows 95, Pharaoh's Ascent, Incredible Toon Machine, The