Game Downloads
You're located in category:
Incredible Toon Machine, The
Incredible Toon Machine is the sequel to Jeff Tunnell's quirky Sid & Al's Incredible Toons, updated for Windows 95 and enhanced with many new devious levels. As in the predecessor, ITM is an addictive cartoon construction game for puzzle lovers. Twist your brain through 130 new mind-crushing puzzles, go head-to-head with a friend, or design your own from a choice of over 71 gadgets in the Hometoons feature.

Computer Gaming World's 1994 review of the game says it all about what makes it so intriguing: "In Jeff Tunnell's latest installment in The Incredible Machine series, you create the same kinds of Rube Goldbergian devices you made in the past. The difference in the Toon version is that the result is always some wild animation where the cute, but not cuddly, creatures get anvils on the head and singed by dragon fire in order to get a chuckle out of you. The emphasis is still puzzle-solving, but the entertainment value has been punched up to the limit. Whether you're watching cats gag on hairballs or elephants sneezing their way through puzzle solutions, you'll have a great time straining your brain." With a ton of great animations and hidden surprises in the form of interactions between various cartoon parts, Incredible Toon Machine is one puzzler that will keep you glued to the screen until the wee hours. Fans of The Incredible Machine series who find the games a bit too dry and static will tremendously enjoy the cartoons in this installment. A must-have for every puzzle fan.
Download full game now: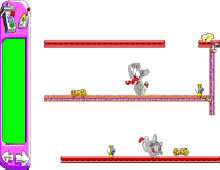 Incredible Toon Machine, The screenshot
People who downloaded this game have also downloaded:
Incredible Machine 3.0, The, Incredible Machine, The, Even More Incredible Machine, The, Sid & Al's Incredible Toons, Lemmings 2: The Tribes