Game Downloads
You're located in category:
Chain Reaction (Webfoot)
Chain Reaction is a fun Tetris clone from Webfoot Technologies, one of the best shareware developers most famous for fun clones of well-known games such as Breakout!. Interestingly enough, the game is actually a more updated version of Xixit, a popular freeware Tetris clone developed by "demoscene" programmers.

The objective, as we all know by now, is simple: rotate and move the falling pieces to align three or more in any direction: horizontally, vertically, or diagonally. When three or more pieces line up, they will 'explode' and disappear. If there are any blocks above the exploding blocks, they will fall into the old blocks' places. If these pieces that fall into the newly vacant spots create explosions of their own, a 'chain reaction' occurs and bonus points are awarded. As each level is reached, the pieces will fall a little faster, making the game much more challenging.

Its similarities to Tetris notwithstanding, Chain Reaction is a lot of fun and very addicting. The game looks great, plays great, and even sounds good. Best of all, given the option to play random levels, the number of levels is virtually infinite. Great 'plasma' animations and incredible soundtrack by Webfoot musician Ariel Gross round off this fun old game you'll spend a lot more time than you'd care to admit ;) Highly recommended!
Download full game now: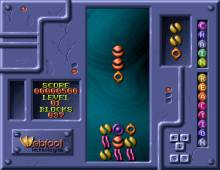 Chain Reaction (Webfoot) screenshot
People who downloaded this game have also downloaded:
Chain Reaction, Block Out, Breakthru! For Windows, Crack Attack, Adventures of Robbo, The