Game Downloads
You're located in category:
Trivial Pursuit
Review 1:

One of the first games made under the new "Leisure Genius" label after Virgin took over Mastertronic to form the "Virgin Mastertronic" division, Trivial Pursuit continues Mastertronic's line of famous boardgames translations…. Including their notorious lack of quality. Although fans of the board game will be overjoyed at a chance to play the game if no friends are in sight, their hopes of a faithful conversion will be cruelly dashed when they find that there is no way to type in answer to the questions. That's right-- the whole ingenious point of the game, the one highlight that distinguishes true scholars from trivia junkies, has been reduced to a ridiculously simple concept of answering either "yes" or "no" to the answer the computer provides ("is your answer correct?", it nonchalantly asks). Although every other aspect of the game (down to the colorful wheel) is meticulously modelled, and you can play against up to 3 other human players, the challenge is basically nonexistent. Of interest only as a historical curiosity, or a tutorial for beginners only. Pulling out your mouldy-oldie board game and assemble a real group of friends is a much better idea than playing this poor version. If you like the board game, you would be better off with Domark's superior Deluxe Trivial Pursuit (also on this site), or Hasbro's 1999 CD-ROM update.

Review 2:

A classical quiz of Trivial Pursuit. Play with up to five friends and compete for the title of... whatever. You can pick one of the questions and try to give the right answer. The given cathegories are sport, music, geography, history... you know, the usual stuff. One bad thing about the game and why I don't like it much - you do not enter the answer or pick one of the offered. You have to say it to your friends and then tell the game if you got it right or not. Blah, it should have been better!
Download full game now: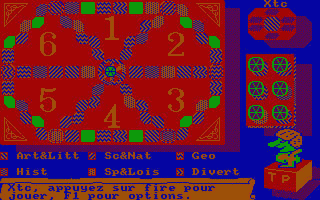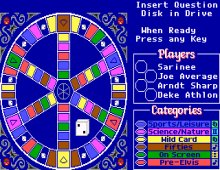 Trivial Pursuit screenshots
People who downloaded this game have also downloaded:
Deluxe Trivial Pursuit, Where in America's Past is Carmen Sandiego?, Mario Forever, Where in Time is Carmen Sandiego?, Where in The World is Carmen Sandiego? Deluxe Edition