Game Downloads
You're located in category:
Widget Workshop
One of Maxis' most underrated games in my opinion, Widget Workshop is a neat computerized "science kit" that lets kids devise gadgets, perform experiments, and design puzzles by using various parts. Like most other Maxis "toys," Widget Workshop is more of a sandbox simulation than a game: kids can combine various parts - such as timers, switches, logic and electrical components - and then just observe what happens. This way, kids are encouraged to experiment and be creative, but at the same time the wide range of widgets and possibility means they will likely seek your help to extract the program's full potential.

The interface is extremely easy to use. All the parts are shown on-screen, and they can be dragged and dropped on to the "workspace" area. Mouse clicks are all that is required to connect them all. For example, you can click a keypad widget, connect it to the the solar system "superpart," attach a "multiplier" to it. Finally, push the green "Go" button to see what happens. Going through the tutorial once or twice is recommended for the younger kids, so they know what each button does.

If creating their own inventions aren't enough, kids can try to solve the game's 25 challenging puzzles, or conduct 30 pre-defined experiments described in the "Workshop Activities book." The wide range of widgets - ranging from everyday objects like timers and switches, to more complex equipments like the magnifier, logic gates, and thermometer - means that kids will learn a wide array of scientific principles when they are having fun. Logic, gravity, sound, light, weather, electricity, computer programming, and arithmetics are some of the subjects kids will learn without knowing it. Definitely one of the best ways to learn about math and science, Widget Workshop is highly recommended for kids of all ages.
Download full game now: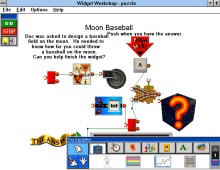 Widget Workshop screenshot
People who downloaded this game have also downloaded:
Where in The World is Carmen Sandiego? Deluxe Edition, Super Solvers: Gizmos & Gadgets, Where in The USA is Carmen Sandiego? Deluxe Edition, Oregon Trail Deluxe, Where in Time is Carmen Sandiego?