Game Downloads
You're located in category:
Peter Pan
One of the best releases in Electronic Arts' short-lived EA*Kids line, Peter Pan is a fun interactive storybook designed for kids aged 4-8. The excellent review at Quandary says it all:

"Peter Pan is an animated adventure where children can really get involved and influence the story in several delightful and often unexpected ways. The game's controls are friendly and easy to use so that children as young as four will have little trouble coming to grips with them, even though the game is recommended for six to ten year olds.

The story opens with Peter thwarting Captain Hook by stealing his treasure map. Hook in turn kidnaps Wendy and 'the lost boys' so you must now help Peter to rescue his friends and to overcome obstacles along the way. The game screen takes the form of an open paintbox with the story played out in the lid. Sometimes Peter will turn to you and ask for your help. At other times Tinkerbell will appear and implore you to help Peter quickly. This is purely for dramatic effect as the game does not rely on reflexes at all.

To assist you in helping Peter are the Paintbox Pals - a group of animated paint tools. There is Sally Sprayer who can create instant creatures; Jazz Painter who lets you add a splash of colour to any scene; Winston Whoosh who will erase anything except the smile off your face; and Nick Lead for a join-the-dots solution to any problem. In addition, Sandy Hourglass lets you go back to an earlier scene so that you can try a different approach and Mark Bookmark saves your game and lets you quit when its way past someone's bedtime.

Sally, Jazz, Winston and Nick will turn around appealingly to offer their help whenever Peter needs it. For example, when Peter is threatened by a pirate both Jazz and Winston may wish to help. Pick Jazz and he turns into a paintbrush, dip him into the yellow paint on the palette then click him on the pirate's sword and it will change into a banana. Alternatively, choose Winston and rub out the pirate's clothes revealing his pink, spotted underwear and he will run away in embarrassment. All good fun for the kids, and all carried out with just a click of the mouse button.

Peter Pan features both speech and on-screen text to encourage reading, as well as beautifully animated graphics. The story offers a variety of choices of solutions - all of them successful so there are no 'wrong' answers to frustrate younger players." Highly recommended, especially for kids who love Broderbund's Living Books series but wish they were more interactive.
Download full game now: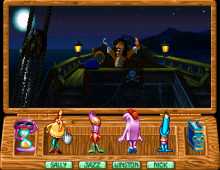 Peter Pan screenshot
People who downloaded this game have also downloaded:
Where in The World is Carmen Sandiego? Deluxe Edition, Zoo Keeper, Super Solvers: Treasure Cove, Reader Rabbit's Ready for Letters, Treehouse, The