Game Downloads
You're located in category:
Treehouse, The
One of the best edutainment titles ever made for pre-shoolers (aged 5-8), The Treehouse was designed to prepare First and Second graders to develop a positive experience toward learning, as well as impart knowledge on basic subjects they are learning in schools.

Kids will enjoy discovering many mini-games and and activities that are cleverly presented as objects in the treehouse. The games cover a wide range of subjects. In one game, for example, kids will learn new words, arrange them in sentences, and see them performed by eccentric bug actors. In another, they will practice elementary math skills and identify coins to outwit pirates. They will learn about the animal kingdom and watch over ninety animals animate as they are placed in different natural backgrounds. Afterwards, kids can show off their natural science knowledge in a fun game show, WhatUs My Animal! In addition to mini-games, The Treehouse also features many activity centers that are there just for fun. In the Music Studio, kids can explore their musical talents as they compose songs using a variety of instruments and styles. In the theatre, they can create a play by mixing and matching a range of characters, objects, and scenery, as well as write their own movie script. With a staggering range of activities, games, and cute animations, The Treehouse will keep preschoolers enthralled for hours on end without realizing that they're learning useful skills along the way. It is no wonder that the program went on to become one of the best selling programs from Broderbund, and went on to inspire many sequels and CD-ROM remakes.
Download full game now: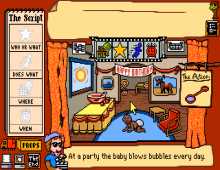 Treehouse, The screenshot
People who downloaded this game have also downloaded:
Super Solvers: Treasure Cove, Super Solvers: Treasure Mountain, Where in The World is Carmen Sandiego? Deluxe Edition, Widget Workshop, Super Solvers: Gizmos & Gadgets