Game Downloads
You're located in category:
Super Solvers: Treasure Cove
Part of the "Treasure Trilogy" from The Learning Company, which includes Treasure Mathstorm (coming up on the site soon :)) and Treasure Mountain (already on the site), Super Solvers: Treasure Cove is one of the best math games ever made for 5-8 year olds, bar none.

The Master of Mischief's experiments are polluting treasure cove. To prevent you from reaching his workshop, the Master of Mischief has destroyed Rainbow Bridge between Treasure Mountain and Invention Island. As a "Super Solver," you can help elves repair the bridges by locating hidden gems. Once you find all the gems, the elves help to rebuild the rainbow bridge, stop the Master of Mischief, and save Treasure Cove.

Similar to other Learning Co.'s titles, Treasure Cove requires knowledge in different disciplines to succeed, although algebra is the focus. You must solve problems requiring you to practice basic algebraic operations (multiplication, subtraction etc.), recognize words and phonics, and even solve riddles about sea creatures. Non-readers can click on the star fish to have the questions read aloud to them, although the voice is quite unappealing.

Overall, Treasure Cove is another enjoyable release from The Learning Company, featuring the same attractive graphics and gameplay as their previous "Super Solvers" games.
Download full game now: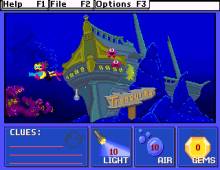 Super Solvers: Treasure Cove screenshot
People who downloaded this game have also downloaded:
Super Solvers: Treasure Mountain, Super Solvers: Midnight Rescue, Super Solvers: Gizmos & Gadgets, Super Solvers: Operation Neptune, Super Solvers: Outnumbered!