Game Downloads
You're located in category:
Super Solvers: Outnumbered!
A fun game in the popular "Super Solvers" series, Outnumbered! was designed for kids ages 7 to 10 to help build basic mathematical skills, such as number recognition, counting, and basic algebraic operations. This time, you, a Super Solver, must save the Shady Glen TV station from Morty's Mischievous plan by tackling word problems and mastering math facts and figures. Colorful characters and intuitive interface will hold kids' interest for a long time, although the game is a tad too difficult to the target audience. Best played with a parent to help lend reflexes in sticky situations.... if the parent didn't already hoard the game for himself, that is . Another excellent game from The Learning Company, despite high level of difficulty even on the easiest level.
Download full game now: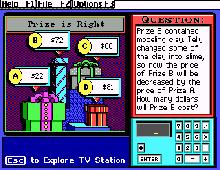 Super Solvers: Outnumbered! screenshot
People who downloaded this game have also downloaded:
Super Solvers: Treasure Mountain, Super Solvers: Midnight Rescue, Super Solvers: Gizmos & Gadgets, Super Solvers: Spellbound!, Super Solvers: Treasure Cove