Game Downloads
You're located in category:
Zoo Keeper
No, this is not the classic Taito game of the same name. Rather, Zoo Keeper is another excellent edutainment title from Davidson & Associates. Designed for toddlers aged 1-6, Zoo Keeper teaches kids about more than 50 different animals from aardvarks to baboons to whales and zebras. While older kids are likely to become bored with the limited animal information and simple game, Zoo Keeper will keep younger gamers clued to the screen with its funny cartoon animals and good gameplay.

The premise in the game is that you serve as temporary zoo keeper whose job is first to fix damage caused by "Troublemakers," and eventually to return endangered animals to the wild. To track down Troublemakers and repair the habitats they foul up, you explore the habitat regions of the zoo to learn what the animals' homes are supposed to be like. Information on animal life and habitats comes from Zoonie, a robot with the lowdown on the zoo's inhabitants. If a baddie drops the temperature and adds foreign plants to the giraffe's home, for example, Zoonie explains how things should be. You then adjust the environment, drag the wrong plants and food to the trash can, and add the right seeds and foods to the habitat. When order is restored, an animated animal will frolic across the screen. A single still photo of each animal is available through a binocular icon.

Descriptions on animal life are brief and plainly written, containing everyday analogies to help kids relate to the information they read. ("Some kinds of crocodiles can grow up to be 30 feet long. That is as long as a school bus!") Some of the Troublemakers disrupt habitats simply by adding garbage. Clever kids will soon realize that they can move through these problems by removing garbage without reading the text.

Although the game lacks multimedia pizzazz (e.g. digitized movies and voices) of other similar titles, Zoo Keeper shines through with excellent gameplay and an intuitive interface that Davidson was famous for. Definitely an excellent way to teach and entertain younger animal lovers about the animal kingdom. Highly recommended!
Download full game now: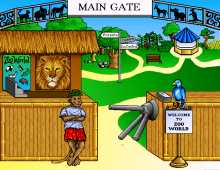 Zoo Keeper screenshot
People who downloaded this game have also downloaded:
Where in The World is Carmen Sandiego? Deluxe Edition, Where in The USA is Carmen Sandiego? Deluxe Edition, Oregon Trail Deluxe, Super Solvers: Midnight Rescue, Where in Space is Carmen Sandiego?