Game Downloads
You're located in category:
Mavis Beacon Teaches Typing
Mavis Beacon Teaches Typing from Software Toolworks is a revolutionary typing program that spawned many sequels and a host of imitators. 4-color CGA graphics doesn't hamper the game's appeal at all, as it's not only adequate, but surprisingly very pleasant: you see all the keys clearly, and there is are "ghost" hands that track your typing in real-time.

The program is user-friendly at its best: you can choose to skip lesson, play a fun typing game (3D racing), or read the vast amount of well-written on-line help and tutorial. Accuracy, speed, and % completion are shown as real-time meters to the left of the screen. You can even use a ticking metronome to time your key presses.

With excellent execution, outstanding on-line help, and a plethora of graphs and options to tailor the program to your typing preferences, Mavis Beacon Teaches Typing is, without question, the best typing tutor ever made, with a design that truly stands the test of time. Perhaps nothing attests to the program's endurance better than the fact that the series is still going strong (it is now a label of Broderbund) even after its original developer The Software Toolworks changed its name to Mindscape and later bought out. Definitely the best keyboard-related product since Dvorak's keyboard.
Download full game now: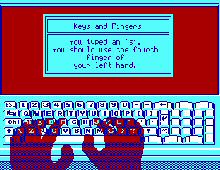 Mavis Beacon Teaches Typing screenshot
People who downloaded this game have also downloaded:
Mario Teaches Typing, Oregon Trail Deluxe, Where in The USA is Carmen Sandiego? Deluxe Edition, Where in The World is Carmen Sandiego? Deluxe Edition, Super Solvers: Gizmos & Gadgets