Game Downloads
You're located in category:
Zero Divide
Zero Divide is an ambitious 3D fighting game that has a lot of potential that is thoroughly wasted by bad controls and repetitive gameplay. The result is a very average game that beat 'em up fans can safely ignore.

The style of Zero Divide closely resembles One Must Fall: 2097 and Rise of the Robots, except its quality is squarely in between the greatness of the first game and the trash-iness of the second. The robots fighters are well-designed enough, but the way they fight is horrendous. It is almost impossible to perform combos consistently, the fight keys are awkwardly placed, and the moves are repetitive.

For its credit, the game does offer several features that you don't normally see in a fighting game. There are many neat unlockable goodies (including a comic strip, a replay gallery, and a timer of your battle time), and there is even a cool (albeit out of place) mini-game that puts you through three levels of fun side-scrolling shooter game called Phalanx. It is too bad that the actual game is too banal to make the overall game stand out from the crowded. Worth a look for a few minutes, then you will be going back to Tekken or, more appropriately, OMF: 2097.
Download full game now: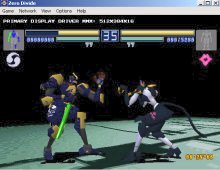 Zero Divide screenshot
People who downloaded this game have also downloaded:
House of the Dead 2, The, X-Men: Children of The Atom, Fifth Element, The, X-Men: The Ravages of Apocalypse, FX Fighter