Game Downloads
You're located in category:
Willow
Willow is an oldie action game based on LucasFilm's fantasy movie of the same name starring Val Kilmer. Not a classic, but an interesting movie conversion with some nice ideas. The game faithfully follows the movie's script, casting you as Willow, a gnome who is assigned to protect a baby destined to end the black magic reign of evil Queen Bavmorda.

The game consists of five parts, all of them being completely different mini action games. The plot progresses via cut-scenes that are shown between these segments. Sadly, none of these sub-games is executed well enough to capture anyone's interest. Technically, though, I was quite impressed by the Ice Caves part where you race down a tunnel. The graphics in that section are quite impressive for its time-- too bad the other sections just aren't as much fun. Recommended only if you're a fan of the movie. For a better conversion, though, play the RPG of the same name that CAPCOM released in 1989 for the NES instead.
Download full game now: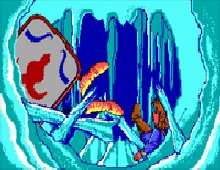 Willow screenshot
People who downloaded this game have also downloaded:
X-Men: Children of The Atom, X-Men: The Ravages of Apocalypse, X-Men: Madness in The Murderworld, X-Men 2: The Fall of the Mutants, Prince of Persia 2: The Shadow and the Flame