Game Downloads
You're located in category:
Vlak
Vlak is a great clone of the classic game Worm that you can see on almost every cell phone under games. The original worms was one of the most simple games ever made but still managed to pull a crowd and was very addictive. Vlak offers the same and while testing the game I noticed that I was at level 13 all of a sudden so Vlak was as addictive as Worm after all - at least for me.

The basic rules of the game are that you have to collect different things such as ice creams, apples, diamonds etc. with a wagon you drive. The more you pick up the longer the train set will get and of course also harder to control. If you hit your own wagons or hit a wall or the exit door you die. Once all items have been collected the exit door will open and you have to drive through it.

The graphics are simple but funny and nicely detailed. The most annoying thing is the controls as they are sometimes delayed which means that you might drive into something - a bit annoying when you are just about to complete a very difficult level. Overall a nice game that offers an easy beginning so you can get familiar with the game.
Download full game now: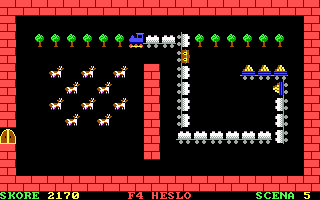 Vlak screenshot
People who downloaded this game have also downloaded:
Fate Axis, Destruction Derby, DriftZone, Jazz Jackrabbit 2: The Secret Files, Ugh!