Game Downloads
You're located in category:
Virtual In 2
Virtual In 2 is a great sequel to Virtual In, a fun one-on-one robot fighting game from Japan. If you hate the first game or "cute" stumpy-head Japanese games, there is no reason to try this one. But if you like the first game, you will like this sequel much more because there is more of everything: more robots, more special attacks, and better graphics. So, read my review of Virtual In below and magnify it by two ;)

"...a fun little one-on-one fighting game that will surprise you with superb playability despite its small size. The title is a parody of popular fighting game Virtual On, and the game itself uses the robotic characters from that game - shrunk from their gigantic proportions down to stumpy "SD" size.

So what makes Virtual In fun? Excellent and smooth controls, for one. It is very easy to pull out normal and special attacks, as well as combos. Similar to Dragonball Z games on the console, the robots can jump high up in the air and stay 'suspended' for a few seconds while they continue the attacks. There are 8 robots you can choose from, but not all from the start. Like all good fighting games, you will gain access to certain robots only after you win enough matches or 'unlock' them by figuring out the right order of keys to press. With smooth controls, a decent array of weapons, and fun gameplay, Virtual In is a fun little coffee break game that is well worth your time. Highly recommended!"
Download full game now: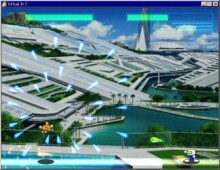 Virtual In 2 screenshot
People who downloaded this game have also downloaded:
Tanks 3D, Virtual In, X-Men: Children of The Atom, Vsys Gaiden (a.k.a. Techno Sylph), Valkyrie Fight