Game Downloads
You're located in category:
Vsys Gaiden (a.k.a. Techno Sylph)
Vsys Gaiden is a fun and very pretty vertical shooter from Japan. The idea is simple: shoot everything in sight to progress to the next level. Ray-traced graphics, good sound effects and music, and excellent ship design round off this short but fun shooters action fans should enjoy. Graphical effects of your ship's weapons are especially good. I found the game a tad too sluggish on my P2/266, so anyone with similar or slower system may experience the same problem. If you have a more powerful machine, though, expect to have a lot of fun with this very good looking freeware. Highly recommended!
Download full game now: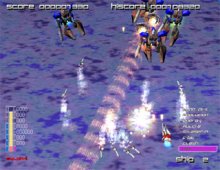 Vsys Gaiden (a.k.a. Techno Sylph) screenshot
People who downloaded this game have also downloaded:
Star Fox 2, Stardust, Xenon 2, Zyclunt (a.k.a. Blade Warrior), G-Darius