Game Downloads
You're located in category:
Valkyrie: The Magical Odyssey
The last game by independent French developer Chili Con Valley (C2V for short) before going out of business, Valkyrie - The Magical Odyssey is an excellent shareware platformer that boasts huge and varied levels, attractive anime graphics, smooth gameplay, and even an interesting plot. You control a Norse heroine called Valkyrie as she travels beyond the limits of the known world in search of the only potion that can save her homeland, Nanteket. Along the way, you will encounter over 100 characters, collect dozens of powerful weapons and even strange creatures, and ultimately confront the Norse god Loki.

The first thing you will notice is that Valkyrie is a very good looking game. The graphics, all done in Japanese anime (cartoon) style, is crisp and smoothly animated. The game boasts huge levels that scroll in multiple directions - upward and downward as well as the usual left and right. The levels are very well designed, full of background details and excellent illusion of depth. The registered version (the one for download here) contains over 10 varied levels, each with its own theme, monsters, weapons, and graphics. The gameplay on some levels is also different: in the underwater level, for example, you will swim from scene to scene instead of running on the ground.

The biggest complaint I have is that the game loads too slowly even on an Athlon computer, and the translation (from the original French, I presume) could use more work because I spot quite a few typos and awkward sentences. None of these nitpicks should prevent you from enjoying the game, however. If you love platformers, you will love this unfortunately obscure and out of print shareware game. Highly recommended!
Download full game now: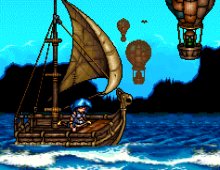 Valkyrie: The Magical Odyssey screenshot
People who downloaded this game have also downloaded:
Valkyrie Fight, Valkyrie Fight Tag, Vampire, Turok: Dinosaur Hunter, Tanks 3D