Game Downloads
You're located in category:
TUMIKI Fighter
In the crowded field of freeware shoot 'em ups, Kenta Cho's games stand a league of their own. Innovations abound, from the abstract wireframe graphics, to randomly generated enemy gunfire, to fluid controls. Just when you think you have seen it all, the author springs new surprises with each new game he made. TUMIKI Fighter is no exception. This time, Kenta turned his prolific talents to side-scrolling shooters.

Apart from the by-now-hallmark beautiful abstract graphics and 2D horizontal perspective, TUMIKI Fighter does not look all that different from previous shooters from Kenta Cho. Also as in previous shooters from Kenta, you can slow down your ship to dodge projectiles. But it takes only a few minutes of playing the game to discover a cool new feature: destroyed enemy ships leave weapon parts on the screen. You can grab/salvage these parts and stick them on to your ship. Once they become yours, they will fire in the direction that you stick them on. Very clever, innovative, and a lot of fun :) There seems to be no limit on the number of parts you can stick on, so after a while your tiny ship will grow into a behemoth. The more pieces you manage to stick on, the higher your score will be. You have shields to protect your ships, and in the latest version enemy fire no longer dislodges all the pieces from your ship.

With excellent abstract graphics, addictive action, randomized elements, and the very cool "stick-on" feature, TUMIKI Fighter is yet another solid entry in Kenta Cho's growing repertoire of superb freeware gems. Watch out for more innovations from this author in the future - his reputation as master of SHMUP is well-deserved.
Download full game now: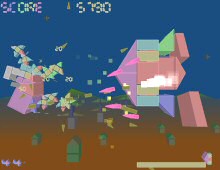 TUMIKI Fighter screenshot
People who downloaded this game have also downloaded:
Sanity: Aiken's Artifact, Star Fox 2, Trap Pinball, T2002, TMNT: Tournament Fighters Remix