Game Downloads
You're located in category:
TMNT: Tournament Fighters Remix
Review 1:

One of the best examples of a good MUGEN fighting game that isn't simply a clone of others, TMNT: Tournament Fighters Remix is a good PC remake of an old SEGA Genesis game, released by Konami. The game stars the famous Teenage Mutant Ninja Turtles, now on a quest to rescue Splinter from their old nemesis Karai.

The author deserves credit for tweaking MUGEN to create new options that mirror the original Genesis game, including the two-on-two mode where you can play with another friend against 2 computer-controlled fighters. Each of the four turtles, naturally, has his own attacks and special moves. The game plays very smoothly, without any out-of-place pixellation found in many MUGEN game. The game mechanics has also been tweaked to make a more balanced game than the original. Whether or not you are the turtles' fan, this is a fun fighting game that deserves space on your hard drive. This one-man fan effort comes highly recommended.

Review 2:

TMHT Tournament Fighters is the "Remix" (or remake) of an old Genesis game (called Megadrive in Europa). This is a fighting game starring the "Ninja Turtles" And some of their friends or enemies from the American "Comic". About the story, Karai has kidnapped Splinter with the help of some bad turtles clones and their friends, and you'll have to fight to get Splinter back.

From the developer "This game was made with M.U.G.E.N, which show one more time that it is THE fighting engine (but it can do more, you'll see). In my humble opinion it is a good fighting game (and this is quite rare on PC) that the Ninja Turtles fans will like a lot (so will the fighting games fan) and so will other people, I hope. I made my best to keep the spirit of the Original Game (especially in the menu) but with adding the stuff you'll find in the latest fighting games, and I tried to change what I didn't liked in the original game). It is a fast game that you will enjoy if you want to play only one minute or several hours! Thanks to MUGEN the fights can have up to 4 players, with two Humans players, that will let you have fun with a friend (really rare, even in the best arcade fighting games). For those who know the Snes version of the game, please notice that this version is really better (even if Shredder is not here)."

This game is a very decent fighting game with nice graphics and great sound effects. It reminds me a lot about games like Street Fighter and while there aren't as many characters within the game compared to some of the better known commercial fighting games TMHT Tournament Fighters is an entertaining game.
Download full game now: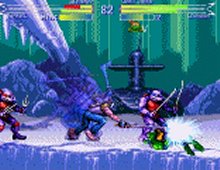 TMNT: Tournament Fighters Remix screenshot
People who downloaded this game have also downloaded:
Teenage Mutant Ninja Turtles 3: The Manhattan Missions, Teenage Mutant Ninja Turtles, Teenage Mutant Ninja Turtles 2: The Arcade Game, X-Men: Children of The Atom, Super Street Fighter 2 Turbo