Game Downloads
You're located in category:
Treasure Trap
A fun wreck-diving action game played from an attractive isometric view, Treasure Trap is short on innovation but long on imaginative gameplay. The goal is simple: find and collect gold in every room, then escape a final surprise to the surface to become the world's richest man. Your reflexes will be sorely tested as you dodge poisonous stingrays, gigantic crabs, and bigger dangers of the deep.

Despite its resemblance to Scuba Ventures (John Carmack / Softdisk oldie), Treasure Trap adds some puzzle elements to keep the game interesting. As you explore the more than 100 rooms, you'll need to collect keys to unlock new doors, avoid traps, and figure out a way to get from point A to B. These physical puzzles (fans of Zelda will feel right at home here) help elevate the game above typical arcade fare. Overall, a fun game, and a good prelude to the superior Sink or Swim game by Zeppelin, also on this site.
Download full game now: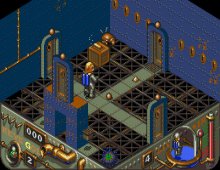 Treasure Trap screenshot
People who downloaded this game have also downloaded:
Puchiwara No Bouken, Trog, Chaos Engine (a.k.a. Soldier of Fortune), Super Space Invaders, Ugh!