Game Downloads
You're located in category:
Chaos Engine (a.k.a. Soldier of Fortune)
From one of the masters of the action genre comes this excellent top-down action game that is fun in solo mode and exceptional in 2-player. Choose from a handful of mercenaries, each with his/her own weapons, for a blitz through forests, enemy camps, and beyond. The trigger-happy, kill-everything-in-sight idea is implemented to perfection, with tons of power-ups, secret items, and cool sound effects. In a departure from most action games, Chaos Engine was designed as multiplayer from the ground up - when playing in one player mode, the computer would take control of the other character, forcing a style of gameplay that was both co-operative and competitive, similar in many ways to the arcade classic Gauntlet. The soundtrack also reacted to how well the players were doing in the game.
Download full game now: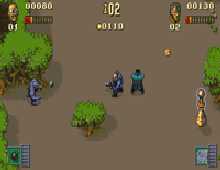 Chaos Engine (a.k.a. Soldier of Fortune) screenshot
People who downloaded this game have also downloaded:
Cannon Fodder 2, Cannon Fodder, Out of This World (a.k.a. Another World), Flashback, Syndicate Wars