Game Downloads
You're located in category:
Train, The: Escape to Normandy
Review 1:

Basically this game consists of some action-sequences placed after each other with the goal to (you will have guessed it) make your escape to Normandy. The action-sequences themselves are fun and after all the game is not bad, but somehow it lacks the clear structure I expect from a real top-game. Graphics are quite good for that time, but the game doesn't really fulfill the expectations you might have gotten from the title. That's of course just my humble opinion - it's nonetheless really playable.

Review 2:

A good 3D action game that is similar to Infiltrator in its crisp graphics style and success of the Commodore 64 version. The plot, which centers around turbulent Normandy during World War 2, is absorbing, and the action is gripping throughout. The 3D railroad-level view is very effective, and there are numerous targets for the trigger-happy. A truly underrated classic.
Download full game now: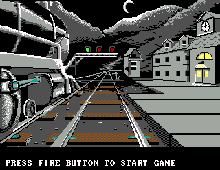 Train, The: Escape to Normandy screenshot
People who downloaded this game have also downloaded:
Super Space Invaders, Shinobi, Total Carnage, Tubular Worlds, Front Mission: Gun Hazard